In Winter, held indoors on select Sundays,(Jan. 21, Feb. 18) beginning at NOON.  If we are able to hold the show outside, we will!
February 18 show CANCELLED due to snow!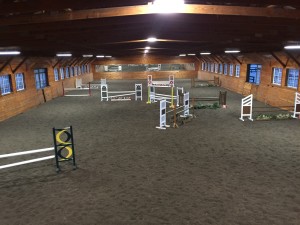 In summer, held on select Wednesday evenings (June 20, July 25, August 1, Aug. 15) beginning at 5 pm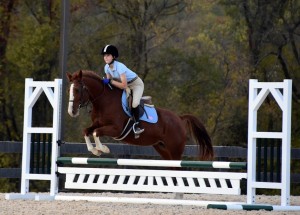 Jump Heights
<12″ Cross Rails
18″ Puddle jumpers
2′ Baby Beginner Novice
2'6″ Beginner Novice
2'11" Novice
3'3″ Training
Show begins with cross rails, then puddle jumpers (18″).  Heights move up after that. You can show multiple jump heights.
 Entry price: $20 per round, plus $20 office fee.  (Red Gate students add fee to use schoolhorse)
Challenging course with combinations,  rollback turns, bending lines, and various oxers.
Blue ribbons for all clear rounds! (no refusals, no knockdowns, under optimum time)
Also, ribbons for 1st-6th places at each height. Optimum time for each level will be announced. Ribbons awarded to rounds closest to optimum time without going over.
Our rings are lit, so if the show goes late, we can keep going!  Excellent watering (auto waterers, sound system and footing).  NEW professional jumps. Auto – timers.
** Please note:  We also offer jump rounds pre-arranged on all of our Combined Test dates.
Registration takes place on the day of the show at the office with a short form. No pre-registration at this time.  We average 45 minutes per jump height at the shows, getting much shorter as the jumps get past 2'6″.