Under the tutelage of top-notch local instructors, you and your horse will shine…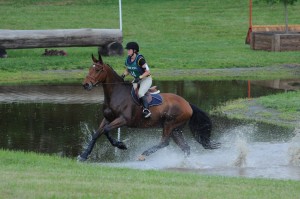 Christine Vitkus, Owner
Christine began her love of horses at age 10, where she attended weekly riding lessons and summer riding camps in Fairfax County. At age 16, she acquired her first horse, which she cared for daily and showed locally. In college at the University of Maryland, she taught weekly riding lessons to children and college students, and competed on the University of Maryland's Equestrian Team in the Intercollegiate Horse Show Association. By her senior year, she was captain of the team. She also rode and groomed racehorses for Laurel and Pimlico racetracks. After graduating, she married and worked a corporate job (ExxonMobil) for 10 years, but also continued to instruct individuals in pleasure riding, specializing in young children. She also rode and trained horses. After the birth of her first child, Christine ran a busy home daycare business for 4 years in Great Falls, Virginia. In 2003, she purchased Red Gate Farm and has managed all aspects of the farm business, including planning, construction, boarding, sales, summer camps and instruction. She now fox hunts with her husband, Mark, at Loudoun Fairfax Hunt, and competes her horse, Z Esmerelda, in dressage, jumpers and eventing.
Sara Vitkus, Eventing Instructor
Sara Vitkus grew up riding horses and has been eventing for many years under the instruction of top-ten world-ranked Hannah Sue Burnett.  In 2012, with her horse Season O'Reason, she won the Area II Junior Preliminary Championship and Thoroughbred of the year, finished 3rd at the American Eventing Championships, and 5th in ranking in the USA at that level. She has ridden and trained numerous horses up through the Novice and Training levels. She ranked 8th and 10th in 2015 year-end USA Young Rider at the Novice and Training levels. She has also successfully coached many students that had never evented up through the recognized Beginner Novice and Novice levels. She graduated with a master's degree in Systems Engineering from Stevens Institute of Technology in Hoboken, NJ.  Sara grew up participating in Pony Club and attained a C3 rating. She teaches and coaches eventers, and fox hunts occasionally. She trains and competes her 5 year old OTTB, Breezy, and is a Devoucoux-sponsored rider. (talk to her about Devoucoux saddles!)
Christie McKitrick, Eventing Instructor and Barn Manager
Christie McKitrick is a longtime Loudoun County resident and active Eventing competitor in Area II. In 2013, she graduated with a degree in International Affairs from the University of Mary Washington.  She worked for Advanced and CCI*** Event rider and trainer Paul Ebersole every summer during college, and full time for four years after. In 2010, Christie and her horse Teco competed successfully through Intermediate, winning Area II Young Rider Champion. This exposure to elite sport horse management and training gave Christie hands-on knowledge in the care and development of sport horses. She has great attention to detail and runs a clean, organized barn, and cares for every horse as if it were her own.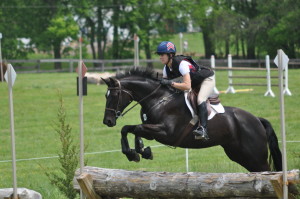 Christie grew up participating in Pony Club and graduated from Difficult Run Pony Club with her "A" rating in 2013. She has extensive experience teaching young riders and adult amateurs alike with a fun and engaging attitude. Christie is also a member of the Piedmont Fox Hounds and hunts regularly. Currently she competes her 6 year old Hanoverian mare Lotte Lenya Q at the Training level. She heads up our eventing team at the farm,  with Sara Vitkus, as and is available for group, private, and semi-private lessons.
Judi Novak, Hunter/ Equitation Instructor
A rider and competitor since childhood and an instructor / trainer for 3 decades, Judi Novak has worked with students and horses in Loudoun County for 23 years. After graduating with a BA in Equestrian Studies from Lake Erie College in Ohio, Judi traveled to Ireland, where she studied under Iris Kellett in the British Horse Society AI program. Later in Michigan, Judi partnered with a friend to own and operate a boarding / lesson facility with 30 horses and 120 students. An opportunity to train with Olympic Gold Medalist Torrance Watkins prompted the move to Virginia, and after three years with Torrance, Judi went to work with Trip Hoffman in Chantilly, training and selling horses. The years subsequent to that of free-lance work with competitive event horses and riders led to a 7-year position teaching in the riding department at Foxcroft – a private girls high school in Middleburg. After the birth of their first child, Judi and her husband Mark moved the family to Purcellville from where she has worked part-time to coach both pleasure and competitive individuals for the last 20 years, 15 of which have been at Red Gate Farm.  Judi coaches our 3 winter equitation teams:  JEL, NCSSEL and NCEL, as well as coaching in hunter shows.
Rebecca Asevedo, Hunter/Equitation Instructor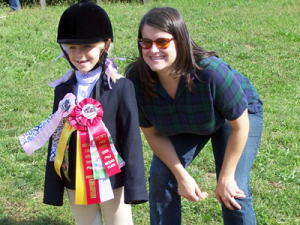 Riding since age 7, Rebecca showed equitation as a child. Attending the Southern Seminary College, she competed for her college team in the Intercollegiate Horse Show Association and in Hunters. She was a national champion in the Intercollegiate Horse Show Association in 1991 and 1993 (and was 4th in Nation in 1992). Rebecca graduated with a degree in Equine Management and also earned her Riding Instructor Certification. She has taught hunt seat equitation and trained horses for the last 18 years in various barns in and around Northern Virginia. Red Gate Farm has been her home for the past 15 years. Specializing in private and semi-private lessons, Rebecca passes on her love for horses and the finer points of correct equitation.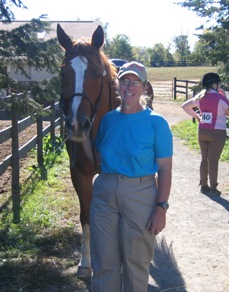 Pam Kunkel, Hunter/ Equitation Instructor
Pam began riding at an early age and showed in Equitation, Hunters and Eventers. She began teaching children and adults at Bay Ridge Equestrian Center in Clifton, and continued after the stable relocated to Centreville. When the opportunity presented itself, Pam purchased the business and managed all aspects of boarding, lesson program and summer camps. Bay Ridge managed 75 horses and over 300 students. Pam has coached hunter / jumper riders and event riders for 20 years, and currently coaches 11-18 year olds on the Bay Ridge Equitation Team in the National Capitol Equitation League. She has been teaching children and adults in Fairfax and Loudoun County for 30 years, including her students at Red Gate Farm for the last 15 years.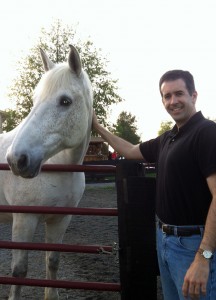 Jeff Good, General Instructor
Jeff grew up riding horses in Loudoun County. He joined the Loudoun Hunt Pony Club as a "D1" at an early age and eventually graduated from Pony Club with the "A" rating. He also enjoyed Fox Hunting and competed in Eventing Horse Trials at the Preliminary Level as well as hunter/jumper shows. He has several years of experience teaching dressage, cross country and show jumping as well as coaching Pony Club Rally teams. He served as an instructor for Pony Club camps both for riding and horse management. He really enjoys working with and teaching kids of all ages. He lives in Purcellville with his two children Cassandra and Matthew both of whom have learned to ride at Red Gate Farm!  Jeff has been teaching riding here for 7 years.
Laurie Feickert, General Instructor
Laurie creates an excellent base for all of students at Red Gate Farm. With her 20 years of riding instruction, she easily manages group lessons of all abilities, and is available for private and semi-private lessons as well.  She utilizes a core foundation of solid skills and safety as a building block for students' riding career.  She taught at Foxcroft in Middleburg for 19 years, and we are delighted to have her here at Red Gate Farm.  She also has years of experience fox hunting, including whipping in for Middleburg Hunt.
Hanna Carey, General Instructor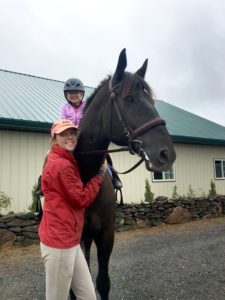 Hanna has been a student at Red Gate since the very start of her riding career in 2005. She has shown in hunters and equitation, having ridden on our NCSSEL/NCEL teams for four
seasons and in the local VHSA series. She also has experience in mounted games, polocrosse, eventing, and racehorse rehabilitation. Her favorite part of the sport is foxhunting, where she has taken out seasoned hunt horses and introduced some greener mounts to the hunt environment since 2014.
Hanna's specialty is teaching at camps! She served as a counselor in training (CIT) for six summers before moving up to teaching camp lessons. She's also been an integral part o
f the teenage barn worker team since 2012. Hanna has learned from the best:  nearly every one of our instructors!  She brings her youthful enthusiasm to work daily, mostly with children.