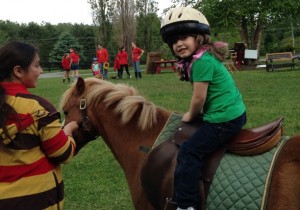 Have the BEST birthday EVER at Red Gate Farm!!!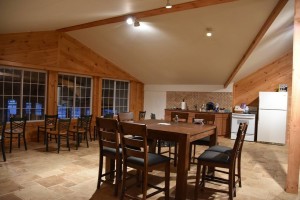 Our birthday parties are a child's dream:
     Private pony rides for your guests, use of our fabulous facilities, and perfect photo opportunities. Parties can be held rain or shine, as we have an enormous indoor riding arena.
    Our indoor party room has heating and air conditioning, restroom facilities, kitchenette, and fridge/freezer, and can hold up to 25 children.  **
     Party includes restroom facilities.
     Decorations may be brought to the farm, such as balloons, table cloths, party favors, etc. Carrots and apples can be brought to feed the ponies, but children must be supervised while doing so.
The first hour of the party is run by Red Gate Farm staff (i.e. pony rides or trail ride); the second hour is usually run by the party host (i.e. food, cake, games, etc.)
Please call to discuss party options and availability at (540) 882-3530. Scheduling is best on Saturdays 1-3 pm, 3:30-5:30 pm, 6-8 pm (Spring/Summer only; works well for sleepover parties) or Sundays 4-6 pm. Please send $100 booking deposit (non-refundable) once your date is set. Below are listed some of the most popular party options, but we can customize your party.
PONY PARTY: The pony party includes one hour of pony rides (with one pony) for up to 10 children, a 15-minute pony grooming lesson, and use of the party facilities for 2 hours. Cost is $250.
SUPER PONY PARTY: The SUPER pony party includes one hour of pony rides (with TWO ponies) for up to 20 children, a 15-minute pony grooming lesson, tour of the farm including chickens, gift for birthday child, and use of the party pavillion for 2 hours. The moonbounce may be substituted for the second pony. Cost is $350.  $20 per child over 20 children
TRAIL RIDE PARTY: This includes a lesson and beginner trail ride where each rider rides their own horse, 15 minute grooming session, and the par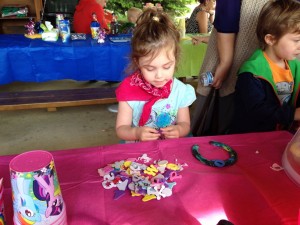 ty pavillion for 2 hours. This is available for ages 10 and up when the weather is good. Cost: $300 for 4 riders; $360 for 5 riders; $410 for 6 riders; $460 for 7 riders; $500 for 8 riders; $550 for 9 riders; $600 for 10 riders.
PARTY ADD-ONS: Pizza $15 / pizza for one-topping; 2-hour moonbounce $100, arts and crafts $6/craft, goodie bags for $5 each.
** We only have 26 chairs for parties.  Often we are asked which children are "Participants" in the party.  Regardless of age, if they are going to be grooming a pony, riding a pony, sitting at the party table, and/or making a craft, they are included in your party headcount.  If they are a baby in a stroller, a teen that is just there for their sibling, a parent of a party child, etc. then they would not count. Children 1-2 years old will have parent walk with the child in addition to our pony leaders.  Children over 2 can ride the pony independently. Total number of people that will be allowed for one party, including adults, is 35 due to the size of the room.
Also, we do allow outside food, but pizza must be ordered through Red Gate Farm, and outside food is limited to simple finger foods, other than birthday cake/cupcakes/ice cream.