DRESSAGE SHOWS ARE OPEN TO ALL RIDERS & HORSES! Large indoor and outdoor rings with premium footing.  Gravel parking lot; overflow in field.
Click here for the ONLINE REGISTRATION FORM
All riders must have a signed Red Gate Release Form on record with us before riding!
Click here for Photographer (Hannah Jones Photography)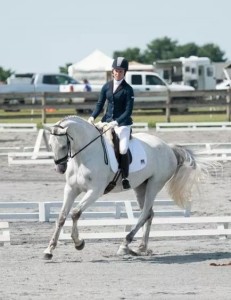 2018 DRESSAGE SHOW SCHEDULE*
19255 Foggy Bottom Road
Bluemont, VA 20135
Sunday, April 15 — Closing Date: April 9—  Judge: TBD
 DRESSAGE SHOW FEES
Entry: $45 (non-CDCTA member), $40 (CDCTA member)
Fix-a-test available for $65
Late Fee (applies after closing date): $20
Click here for the ONLINE REGISTRATION FORM
We welcome all competitors from local stables, including our Red Gate Farm students. Our facility boasts excellent footing, great judges, an indoor with an outdoor warmup, and a beautiful climate-controlled viewing gallery that overlooks the indoor arena. Our shows have always been fun and our staff is friendly and helpful.
Come and join us! Ribbons are awarded to the top 6 riders in each division. Riders in the introductory division will receive a completion ribbon if they finish but are outside the top 6.
Trailer parking is available in our field with easy access to the ring and facilities. Bathrooms and water are available at the main barn.
Red Gate Farm wants everyone to have a pleasant, safe, and fun experience. Good luck to all!!
*In case of inclement weather, the horse show may be cancelled.  A message will be posted on our website and on our answering machine by 6:00 am.  Please call (540) 882-3530.
PARKING:  Trailers: We will park trailers up by the right side of the indoor arena and on grassy area past arenas and toward the house. IF RAIN, we will make every effort to park on gravel.
Cars: Park on the left side of the indoor arena.  To get there, at top of drive, turn left and pass  front of barn, then turn right after barn.
 VET—ON CALL ONLY; No FARRIER
Show Office open and packets available  Sunday at 7:00 AM.  
Weekend show mobile phone number (703)585-7586.
GENERAL COMPETITOR NOTES:
Parking Lot  OPEN at 6:45 Sunday morning
The test will take place in the indoor; warmup will be in our small outdoor arena with Eurofelt footing.
Please bring your own water/snacks; there is NO snack bar, but the outdoor wash stall may be used to hose off your horse.
Braiding not necessary; formal attire not necessary.
Event timetable posted below
Please be sensible when parking Sunday morning;  and thank our volunteers
All ribbons/prizes will be given out unmounted at the show office.
PROVISIONAL TIMES will be posted below.  UNLESS you have an issue with your times with multiple horses, no need for a reply to RedGateFarmVA@aol.com.    We will do our best to make any necessary adjustments.  Posted times will become FINAL AS OF 8 AM FRIDAY MORNING.  Competition is on SUNDAY.