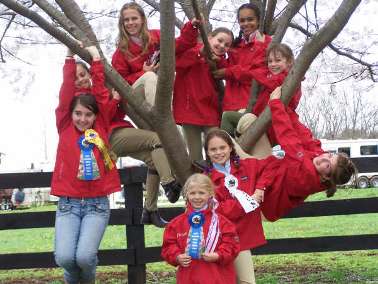 Register in March and April — practices begin in April.
Includes Spring and Fall showing also, plus:
10 of 11 team practices: First and Third Wednesdays each month 6:30-8:30 pm starting  April 15, May, June, July, August, September. ($600 value)
Priority for horses & ponies for shows, after owners and lessees
$20 office fee waived for all Red Gate Farm VHSA shows. ($120 value)
We are offering outside shows when we have enough interest (see outside show page)
Must commit to :
Competing in 5+ shows offered per year (outside shows or RGF VHSA shows)
Pay show team fee of $550 ($750+ value) NOW AVAILABLE IN 5 MONTHLY PAYMENTS of $110
Show team fee does not include show fees or show attire. Team jacket with custom embroidery additional $125.
GOOD LUCK AT THE SHOWS…….AND HAVE FUN!!!