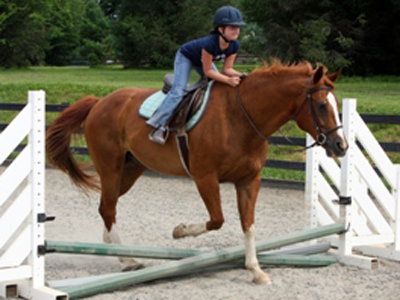 What do I wear? A riding helmet that fits is required. We have enough here for students to borrow, but you are welcome to bring your own. Riding pants and riding boots are recommended, but any long pants and hard-soled shoes with a heel will be fine. Riding helmets range in price from $50 – $100, Riding pants are around $30, Riding boots from $40-$80. All can be purchased from any tack shop. The best prices in the area are from Saddlery Liquidators in Haymarket , or from Dover Saddlery in Chantilly. Dover also has a website at www.doversaddlery.com . Please do not bring a bicycle helmet, as it does not offer the same protection. Shorts should be brought for ground activities. All clothes should be able to get dirty. For full-day camps, bring sunscreen, bug spray, bathing suit, sandals, swim goggles, and towel. Note: NO OPEN-TOED shoes are allowed in the barn. Students should arrive each morning dressed to ride.
What will I eat? Snacks and water are provided by Red Gate Farm. Typically, snacks consist of crackers (goldfish, graham, Ritz, party mix, etc.), rice crispy treats, popcorn, fruit (watermelon, grapes, etc.), and other finger foods. Please note any allergy information on the registration form. Water is available at snack time in the morning and afternoon. Popsicles and slushies are frequently offered as well. Campers should bring a daily lunch. Please use ice packs if the lunch needs to be chilled, as refrigerator space is limited. If your child is a picky eater, you may want to bring some additional food options. Fridays are a pizza party!
What group will I be in? Campers are placed into 4 groups based first on their ability, and second by their age. We try our best to honor requests to keep friends together. Please let us know about these requests on your registration form.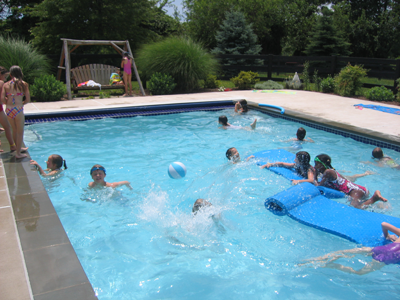 Can you explain the swim time? Swim time is offered for full-day camps only. It is a great opportunity to clean up & cool off, as well as relax, have fun, and strengthen friendships. We use our pool to practice our horse dressage tests, practice riding commands in the ring (reverse, passing, circles, etc.), and play horse water games. The pool is 5 1/2 feet deep in the deep end. Non-swimmers should bring a life vest. (We have a few to borrow). Lifeguards are certified, trained in CPR, and first aid.
Where do I go the first day? Campers will be signed in at the registration table near the barn. Make sure you have the full payment for the week (if not already paid), signed waiver by a parent, and registration form. Then they choose a cubby, and proceed to the morning/gathering area.
Where do I put my things? Campers are given a cubby with their name on it to use for the week. This is where they store their extra clothes, arts-and-crafts projects, prizes, etc.
What if I don't want to swim/ride? We have many horse puzzles, horse books, and additional horse arts-and-crafts, etc. if you need them. If a camper is ill, a parent will be called.
Who are the staff? Christine Vitkus, owner, will direct the camp for the 12th season. Her husband, Mark Vitkus, and other adult staff will assist, as well as younger, experienced teenagers. (CITs)
Could I be a CIT for a camp? Please contact Christine Vitkus at Red Gate Farm to discuss. Additional information on the CIT program is available at the barn.
What can I do for extended care? Please pre-arrange before and after care to make sure we have enough staff. Before care is dropped off at the house, and usually consists of quiet horse activities. After care usually consists of extra pool time or quiet activities. Usually, campers are very tired at the end of the day!
I'm a little afraid of riding, will it be OK to come to camp? Riders progress at all levels and depending on your ability. Our instructors will help you progress at your own pace. We also have slower "bombproof" horses for those campers wanting a fun, easy, and quiet ride. We also have CITs in the ring with you, and you can request that a CIT holds onto your horse to help you.
Do most people go to camp with a friend? Although we have many returning campers, we also have many new campers that are eager to make lots of horse-crazy friends. We try our best to create a fun environment where it is easy to make new friends. Not everyone comes to camp knowing others but everyone leaves camp with many new friends.
I have never ridden, is this camp right for me? As long as you are willing to try, you will have a lot of fun!!! You will be pleased to know that about half of our campers come to camp as beginners that have little or no experience.
What will my group be like? Groups are based on age and ability. We try to honor requests. We have 4 groups. Two groups ride while the other two do crafts. Groups usually become really good friends by the end of the week.
What will our CITs be like? Our CITs are hand-picked by the director. We like to see fun, active, and helpful CITs. CITs can help you find your way around, talk to you, play with you (piggy-back rides and games), and help you with crafts.
My mom works until night, can I still come to camp? YES! Talk to your parents about aftercare. During aftercare you can practice in the pool, play quietly (puzzles), or talk to the CITs.
What else do we do at camp? There is so much to do at this camp! You will never be bored. If you like horses, this is the place to be! We ride, do horse crafts, play horse games, and cover horsey topics (finger paint a horse to learn the parts, give a bath to a horse, dress your horse up in a costume parade, clean tack, and MORE)
What crafts do we do? Crafts change for different camps and years. Some crafts in years past included picture frames (with a picture of your horse!), magnets (with your favorite horse!), door hangers (with lots of HORSES on them), TIE-DYE Red Gate Farm tee-shirts, riding bags, horsey visors, horse bead necklaces, horsey pillowcases, leather stamping, and so many others.
What are some of the games we play? All of our games are horse related whether you are playing skittle trivia, jumping courses on foot, races, horse horse PONY, horse tag, ponies and riders, and many more of your favorite games with a horsy twist!
Do I need to bring riding equipment? If you have your own helmet, boots, riding pants, or other equipment then you are welcome to bring it. If not, then wear long pants, a hard-soled boot or shoe (we have some but limited supply and sizes) and we will provide you with a helmet.
What do I bring? Here is a checklist.
Lunch
Water bottle
Bag to carry supplies in
Long pants
Hard-soled boots
Helmet (if you have one, please no BIKE HELMETS)
Sunscreen
Bug spray
Swimsuit
Towel
Shorts to change into
Sandals for the pool
Goggles for the pool
Your smile!!!
Do I have to participate in all of the activities? We won't force you to do anything you're not comfortable with, but trying new things usually turns out to be fun. In games and topic sessions, we expect you to try your best, after all those activities are what make camp fun.
What if I decide that I like horses so much that I want to continue riding outside of camp? That is the reaction we usually get out of campers. You can come visit them by signing up for lessons or participating in clinics and other fun events. All of this information is frequently updated on the web site.
What horse will I ride? Campers will get a tour of barn and they get to meet the horses before deciding what horse they want. You may not get your first choice but all of the horses are so good that you will like each and every one of them. If you would like to see some of the horses click on the horses link on the web site.
Is the horseback riding like a regular lesson? Most of the lessons are like regular lessons at Red Gate Farm, but we will do scheduled trail rides, pony games, and even bareback.
Who will be my instructor? If you are more advanced, you will probably have one instructor, if you are more of a beginner, you will have the other instructor. All of instructors are great, and you will learn a lot from all of them.
Where is the trail ride? It is on our property in an enclosed area by a fence. Some parts are in the woods, and some are in the field. We bring instructors and CITs to help you out.
What are the mounted games? Which games we play depends on the class level, but some favorites are musical stalls, grooming tool grab, barrel racing (at a trot!), relay races, slowest race, command-break-and-out, dollar bill, egg-and-spoon, and obstacles.
Am I a good enough rider to try the eventing camp? If you have been taking lessons for about a year and can control your horse well at a canter in a group, you are ready to try the eventing camp. You might not be going out into the field to jump the cross country course if you aren't ready for that, but you can spend more time practicing the dressage and stadium jumping instead.