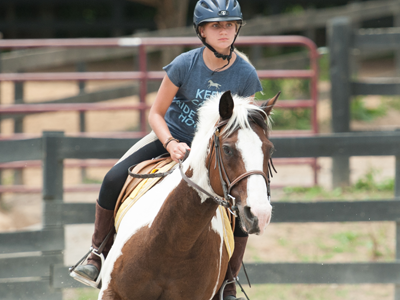 Red Gate Farm has horses available for short and long-term leases, as well as those available for practice rides (hacks). This offers our riders the opportunity to spend extra time with a horse appropriate to their riding level, strengthening grooming, tacking and riding skills. Some horses may be available for sale to current students also. Please contact us with inquiries.

A lease means that you commit to renting a specific horse on the same days every week to ride ON SITE without an instructor. The purpose of the lease is to ride more often with one horse in order to practice skills learned in lessons and to build a partnership over time.
A practice ride (hack) is a 45 minute on-site ride on a horse at the student's riding level, assigned by an instructor or barn manager based on availability on that day. Practice rides are only available for students who can ride and tack up independently. Practice rides are available pre-planned for $40 each.
Rules of Lease and Practice Rides
Arrangements are made on a case-by-case basis and only for students currently enrolled in lessons
If the assigned or leased horse is unavailable for any reason, including injury, a replacement horse at the rider's level will be assigned at the barn manager's discretion
Rides do not include jumping
Rides must be supervised by an adult
Riders are responsible for care of the horse before and after riding (thorough grooming, tacking up, warm up period, cool down, putting tack away properly)
Leasing and practice rides are a privilege which can be revoked if not treated as such
Lease Rules
To make arrangements for a lease, please contact us directly. Specifics of a lease are determined on a case-by-case basis, but most lease arrangements follow the guidelines below:
Schoolhorse lease prices include weekly group lessons, which will be scheduled as a lease day
Lease terms must be pre-paid and are for contiguous months
Schoolhorse leases include shoes, board, and veterinary care at no additional fee
Lease prices are based on schooling level and ability of the horse and rider; ponies and horses have the same lease costs. When a horse is listed at two levels, the intended use will dictate the price of the lease.
Schoolhorse leased horses are also used in lessons, so regular ride days and times are scheduled at the beginning of the lease; any missed rides are forfeited
If your leased horse is ill or unavailable for any reason, a replacement mount will be assigned until the leased horse returns for duty
Lessees are not financially responsible if the horse becomes ill or is injured during an on-site ride
Reservations for outside rides and shows must be made separate from the lease – DO NOT ASSUME your leased horse will be available
Any show fees (transportation, off-site or full-day usage fees, accommodations) are additional to the lease cost
Changes to lease days/times can be requested in advance, but are not guaranteed and might require re-assignment of lease horse
Requests for a change in leased horse are granted at the discretion of the owner or barn manager
Leases are not guaranteed to be renewed at the end of the term and can be cancelled by the lessee or barn owner

with 30-day notice
Lease Types and Fees
The term "horse" below applies to both horses and ponies
Full Lease (schoolhorse): Lessee can ride any day of the week based on the schedule established in the lease, to include lesson days. Horses in full leases will still be used as school horses, but in no more than 2 lessons per day outside of the lease arrangement. Lease cost includes weekly group lessons and costs $625 per month.
Half Lease (schoolhorse): Lessee can ride 3 days per week based on the schedule established in the lease, to include lesson days. Only one weekend day is allowed for this lease type, whether that is a lesson day or not. Lease cost includes weekly group lessons and is $500 per month.
Full Exclusive Lease (non schoolhorse):  Similar to owning a horse, this lease does not allow other riders to ride the horse, and the rider assumes all of the horse's expenses.  This lease does not include lessons, and the rider pays boarding (field or stall), farrier, dentist, and vet bills.  Some horses may have an additional monthly lease charge, depending on the horse's value. This type of lease includes horse usage for shows, off-site clinics, etc.
A 5% discount is given for a 6 month lease; 10% discount for a 1 year lease.
Note:  30 days notice for cancellation of a lease is required. (or you will be charged)
AVAILABLE HORSES/PONIES:
Payment secures your spot, and is due at or near the time of service.  Red Gate Farm does not offer in-house financing or monthly billing.