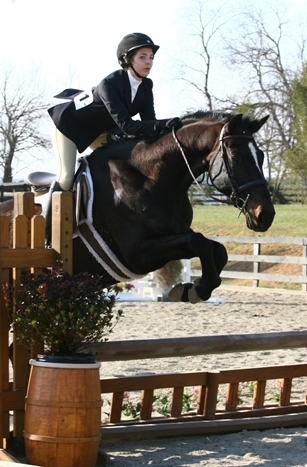 Events Calendar
Events at Red Gate Farm are marked in BOLD
Others are  off site events that Red Gate Farm is planning on attending if attendance minimums are met.
Click here for more information about Outside Shows.
We welcome all competitors from local stables, including our Red Gate Farm students! Our facility boasts excellent footing, great judges, new jumps,  warmup arena, and spectator seating. Our staff is friendly and helpful.
Trailer parking is available near our barn on gravel or in our field. Picnic tables and "real" bathrooms are available, as well as water for your horses.
We encourage all beginners, first-time competitors, and "rusty" riders to begin showing at Red Gate Farm. We want everyone to have a pleasant, safe, and fun experience.
Dec. 31, 2017 (Sunday) – CANCELED
 VHSA Hunter Show at Red Gate Farm – CANCELED
Jan. 7, 2018 (Sunday)
NCAEL Adult Team Show at Red Gate Farm
Jan. 21 (Sunday)
Jumper show at Red Gate Farm
Feb. 4 (Sunday)
VHSA Hunter Show at Red Gate Farm
Feb. 11 (Sunday)
NCSSEL "C" TEAM SHOW at Red Gate Farm
Feb. 18 (Sunday)
Jumper show at Red Gate Farm – CANCELLED
Feb. 25 (Sunday)
NCEL "A" TEAM SHOW at Red Gate Farm
March 4 (Sunday)
VHSA Hunter Show at Red Gate Farm
March 18  (Sunday, 9 am start)
Schooling Jumper Show &

Combined Test at Red Gate Farm

April 15 (Sunday)
Dressage Show at Red Gate Farm
April 8 (Sunday)
VHSA Hunter Show at Red Gate Farm
May 6 (Sunday)
VHSA Hunter Show at Red Gate Farm
 May 20 (Sunday)
Combined Test  at Red Gate Farm
TBD (Sunday)
Student Show at Red Gate Farm   noon-4 pm
June 3 (Sunday)
VHSA Hunter Show at Red Gate Farm
June 20 (Wednesday)
Evening Fun Jumper Show
 July 22(Sunday)* DATE TBD
 VHSA Hunter Show at Red Gate Farm
July 25 (Wednesday)
Evening Fun Jumper Show
August 1 (Wednesday)
Evening Fun Jumper Show
August 15 (Wednesday)
Evening Fun Jumper Show
August 5 (Sunday)
Combined Test  at Red Gate Farm
August 19 (Sunday)
VHSA Hunter Show at Red Gate Farm
 September 2 (Sunday)
VHSA Hunter Show at Red Gate Farm
October 7 (Sunday)
VHSA Hunter Show at Red Gate Farm
November 7 (Wednesday)
VHSA Hunter/Jumper Banquet
Combined Test at Sandstone
Cross Country Schooling Outing –  Champagne Wishes

weather permitting

Surefire Horse Trial
Hunt Club Horse Trial
TBD
LTD Jumpers
 Cross Country Schooling Outings  weather permitting
2018 Fees: 
Horse Usage for shows: $40 each rider for singe division with shared usage for hunter, equitation or dressage show
$60 single rider for hunter, equitation, jumper or dressage show, or multiple divisions
$85 eventing/ long trail ride / XC schooling
$200 Fox hunting (includes trailering within 30 miles); $60 groom/tack fee (optional); $65 semi-private lesson fee for riding with a staff member (required if a non-member of hunt)
Trailering: $1/mile each way. $60 minimum
Coaching: $30-$50 on site.  $50-$85 off site