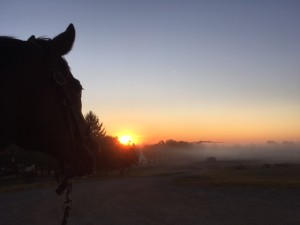 All boarder horses at Red Gate Farm are treated with the highest quality care. Grain and hay feedings are customized to the need of each horse within the Nutrena feed program. Timothy hay is fed in the paddocks to supplement the grass in the winter months; alfalfa is available for stall boarders. Supplements are permitted at the owner's expense; the use of SmartPaks is highly encouraged!
We encourage boarders to place their horse on the Red Gate schedule for vaccinations, dental work, worming, and farrier visits. This will ensure your horse remains up to date on all of his necessary health work. A holding fee is required for this service (see Fee Schedule below).
To inquire about boarding, please contact barn manager Christie McKitrick: christina.mckitrick@gmail.com
Barn Manager: Christie McKitrick
Veterinarian: Clarke Equine Wellness and Performance
Farrier: Chris Suttle & Chris Carter
Dentist: Graham Alcock
Board Options
Schoolhorse Field Board: Allow your horse to be used in the lesson program. $325/month
Field Board: Large pastures with automatic waterers, run-in sheds, and access to hay racks or round bales. Separated by mare/gelding. $500/month. Due to the number of boarders, a blanketing fee of $90/month will be assessed for winter months that the horse wears a blanket (typically October – March).
Stall Board: The horse will be in a stall 8-12 hours a day. Turnout at night in the summer; turnout in the day in winter. $800/month.
Additional Services Available for Boarders
Grooming
Mane Pulling $30
Trim (Whiskers, Bridle path, Fetlocks) $30
Body Clip $150
Health
Holding horse for farrier/vet $20 per incident
Wound Treatment (includes supplies) $15 per incident
Hoof Soaking/Wrapping (includes supplies) $30 per incident
Stall Layup $10/day
Administering shots/medication $20
Transportation
$1/mile
Minimum charge $50
Training/Exercise Rides
ALL TRAINING AND EXERCISE RIDES MUST BE AUTHORIZED BY BARN MANAGER CHRISTIE MCKITRICK.
Student Exercise Ride: $30
Training Ride: $50
Training Stall Board: $1300/month for 3 training rides a week
Training Field Board: $1000/month for 3 training rides a week
Payment secures your spot, and is due at or near the time of service.  Red Gate Farm does not offer in-house financing or monthly billing.