We offer group, semi-private and private English riding lessons on a year-round basis. Classes are held weekly and our extensive schedule accommodates all age and experience levels. Click below for lesson schedules.
Lessons grouped by age and ability
Children are our specialty
Emphasis on safety, building on riding skills, knowledge of horses, and FUN!
Kind, patient instructors with many years of teaching experience
Safe horses & ponies for everyone
On-site shows for all levels of students where every child wins a ribbon
Surprisingly affordable
Evaluation lessons are paid  lessons
All riders must have a signed Red Gate Release Form on record with us before riding!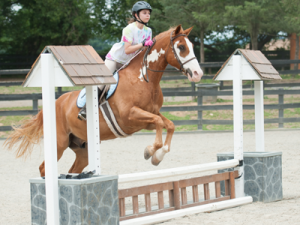 GENERAL POLICIES
RATES
$60 per lesson for individual GROUP LESSONS; or get the reduced price when you register with a pre-paid block for the current semester and next semester prices).
$75 per lesson for SEMI-PRIVATE LESSONS or $70 per lesson when purchased in a pre-paid block ( 2 or 3 people ) Semi-private lessons are set up individually – please contact us to schedule. Blocks available at a discount.
$85 per lesson for PRIVATE LESSONS or $80 per lesson when purchased in a pre-paid block ( 1 person ) Private lessons are set up individually – please contact us to schedule. Blocks available at a discount.
Click here For TINY TROTTERS lessons (ages 2-6) on the first and third Wednesdays of the month.
Make checks payable to "Red Gate Farm". Payment secures your spot, and is due at or near the time of service.  Red Gate Farm does not offer in-house financing or monthly billing.
RIDING LEVELS – Descriptions below indicate what the rider can competently demonstrate on a variety of horses BEFORE being considered to be be at that level.  At the more advanced levels, riders will most likely focus on a specific discipline, in which case not all of the points will be practiced. Lessons at a certain level should be working towards achieving the next advanced level.  
Beginner 1 – No experience
Beginner 2 – Posting at trot, reverse & circle without slowing at walk and trot, halt, hold two-point jumping position at walk and trot, trotting poles
Beginner 3 – Trot in a group, trot single crossrails, canter individually, knows posting diagonals, sitting trot
Beginner 4 – Canter individually, knows canter leads, circle at canter, jumping lines at 12″-18″
Intermediate 1 – Canter with proper leads in group, canter jumping lines of 21″, canter simple courses at 18", simple change of lead
Intermediate 2 – Canter hunter courses at 2',  jump 21″ jumper/eq courses, controt horse in field (over terrain) at walk/trot/canter, intro level dressage test
Intermediate 3 – Jump 2'3″ courses, XC course 18″, Low level dressage tests, Leg yield
Intermediate 4 – Jump 2'6″ courses, XC course 2′, High level dressage tests, shoulder-in, shorten/lengthen strides, flying lead change on an educated horse. Intro/elementary eventing
Advanced 1 – Jump 2'9″ courses, Beginner Novice eventing, Low First level dressage, haunches in/out, Counter canter
Advanced 2 – Jump 3′ courses, Novice eventing, High First level dressage, execute consistent leg to hand contact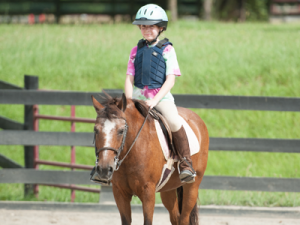 CANCELLATIONS
Cancellations are posted on the website as early in the day as possible, and will only occur as a result of poor road conditions. Otherwise, assume we are riding. We ride on most holidays and snow days except Thanksgiving, Christmas, New Years Eve day, 4th of July, and Halloween.
For cancellations from students, a 24-hour notice is required to get a make-up lesson. Cancellations with less than 24 hours notice can schedule a practice ride with the barn manager.
ARRIVAL TIME
Try your best to arrive 1/2 hour early for your group lesson to prepare your horses.  If you are a beginner in a private or semi-private lesson, arrive 10 minutes early.
AGE REQUIREMENTS
Group lessons are for ages 7 and up, grouped by ability. Private and semi-private lessons are from ages 4 and up. Preschool program begins at age 2.
CLOTHING EQUIPMENT REQUIREMENTS
A hardhat is required. You must also wear shoes with a heel and long pants. NO SHORTS. We have some equipment to borrow. Dress appropriately for the weather.
All tack (saddle, bridle, etc) is provided.