Spring 2018  Dates: Monday, March 5 – Saturday, June 16    (15 weeks)   
LESSONS ARE HELD AT OUR  FACILITY ON FOGGY BOTTOM ROAD IN BLUEMONT.   Schedule below is based upon our Fall 2017 schedule, and is NOT yet confirmed.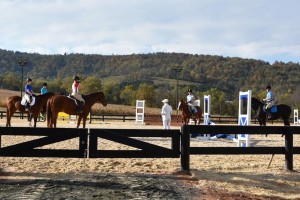 When taking group lessons at Red Gate, please keep the following in mind:
If you are leasing from us, lessons are included in your monthly rate
Group lesson prices are for 4 or more riders.
Classes with fewer than 4 students might be cancelled. In those cases, a makeup lesson can be taken or students can elect to upgrade to a semi-private lesson for an additional $10.
Group lesson time posted means that you need to be ready to ride at that time.  You should arrive earlier to tack your horse.
We ride rain or shine, and on most holidays. Assume your lesson will be held unless a cancellation is posted on our website.
Payment is for 15 lessons in a 15-17 week session. Payment secures your spot, and is due at or near the time of service.  Red Gate Farm does not offer in-house financing or monthly billing.
A 24-hour cancellation notice is required to avoid a forfeit and to take a make-up lesson.
Last-minute/sick cancellations will forfeit the lesson but can schedule a practice ride with the barn manager.
Please note that we do not give make-up lessons for make-up lessons; they are considered a forfeit.
CHECK THE WEBSITE FOR CANCELLATIONS DUE TO WEATHER.  We do NOT follow the county school schedule.
You can purchase a block of 10 practice rides in addition to your lessons for $350 if you can catch/groom/tack/turnout your horse.
PAYMENT: Pre-paid block of 15 lessons for $800. Lessons are $60 each if not using block payment. Make checks payable to "Red Gate Farm". Payment secures your spot. BEGINNER 1: We have found that new riders learn best in private lessons, semi-private lessons, or in our summer camp program. Private and semi-private lessons offer more individualized instruction and ensure your safety.  
Monday – Judi/ Laurie  
5:00 – 6:00 (Laurie) Beg 4 – Amy H, Chris H, Cece, Campbell Y, Morgan J, Ella G.
6:00 -7:00 (Judi) Int 2 –     Tori N, Madison L, Roya C, Erin L, Hannah V, Aby F, Faith G?, Jeweliann C, Gillina C
7:00- 8:00  (Judi) Teen Int 4 –    Haley F, Angela R, Hanna S, Cameron C, Caity D, Bella B, Olivia H
SEE PRIVATE LESSONS (Laurie)
Tuesday – Christie
Eventing lessons (Christie) -Kasey, Cami, Sophie, Sierra, Grace, Lily, Hanna, Morgan, Cindy, Carol
SEE PRIVATE LESSONS (Laurie, Christie)
Wednesday – Show Team night (Judi, Christie, Laurie)  6:00-9:00
Thursday –Laurie/Jeff  
5:00 – 5:45 – (Laurie) Beg 3/4 –  Tricia, Rachel
5:45 – 6:45 (Laurie) Int  teen/adult – Jen W, Fleming, Gina B.
6:45 – 7:45 (Jeff)Int 2/3- Ashlinn C, Ashley K, Lacey, Jackie/Audrey?,
ALSO SEE PRIVATE LESSONS (Christie, Laurie)
Friday – Judi
6:00-7:00 (Judi) Int 1–  Faith G, Emma F, Lally N, Mina A, Robert W, Elizabeth F, Elle C, Leah M, Willow
7:00-8:00(Judi)  Adv – Paige K, Abbey W, Jacqueline W, Olivia H, Patience V, Ellie V, Bella B
ALSO SEE PRIVATE LESSONS (Sara)
 Saturday – Judi/Laurie
9:00 – 10:00 (Judi) Int 4  –  Gillian C, Hanna M, Helen M, Christine M, Jorja R
10:00 -11:00 (Judi) Int 1-   Cassady A, Caitie R, Sarah C, Tristan O, Lauren E, Elizabeth C, Alison C, Laurie G
11:00-12:00 (Laurie) Beg 2 –  Jolie, Kelly, Liam, Lauren, Maddie, Skylar, Stefan
12:00-1:00 (Laurie) Int 2 Adult–  Carol, Cindy, Marissa, Jenna Q, Kerstin
1:00-2:00 (Laurie) Int 1 Adult–  Michele M, Allie,  Rebecca, Heather, June B
2:00 -3:00 (Laurie) Beg. 4/Int 1 –   Lily A, Alex, Jamie C, Madi S/H, Cece, Matt, Madeline, Emma Lapp
ALSO SEE PRIVATE LESSONS (Christie/Laurie/ Hanna)
Sunday – Rebecca